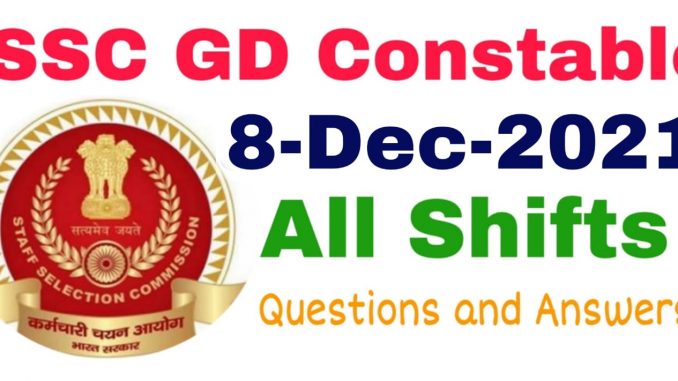 SSC GD 8 December 2021 All Shift Questions and Answers
SSC GD 8 December 2021 All Shift Questions and Answers SSC (Staf Selection Service) recruit candidates for the General Duty post of BSF, CISF, ITBP, CRPF, NIA, SSF, SSB, Rifleman. SSC GD is Paramilitary jobs youth very interested to join in this jobs but they don't have awareness fully that's reason we provide full details of SSC GD. in this Website we provide General Knowledge and English Exam Review with answers so this is very important so don't Neglect this questions and answers.

1) Who defeated PV Sindhu to win bronze medal in Tokyo Olympics 2021
Ans: He Bing Jiao
PV Sindhu created history on Sunday by winning the bronze medal match against China's He Bing Jiao at the Tokyo Olympics. She won the crucial encounter 21-13, 21-15 to become the first Indian woman ever to win two individual Olympic medals.
2) When did Akbar died
Ans: 27 October 1605
3) Idea Telecom has merged with which company in 2020
Ans: On 7 September 2020, Vodafone Idea unveiled its new brand identity, 'Vi' which involves the integration of the company's erstwhile separate brands 'Vodafone' and 'Idea' into one unified brand.
4) Mahaweli Ganga is the largest river of which country
Ans: Mahaweli Ganga, (Sinhalese: "Great Sandy River"), river, central and eastern Sri Lanka. At 208 mi (335 km) in length, it is Sri Lanka's longest river.
5) Farah Khan has been given the Filmfare Award for Best Choreography 2021 for which film
Ans: Dil Bechara
SSC GD Constable General Awareness Questions PDF
SSC GD Number and Letter Series 100 Bits