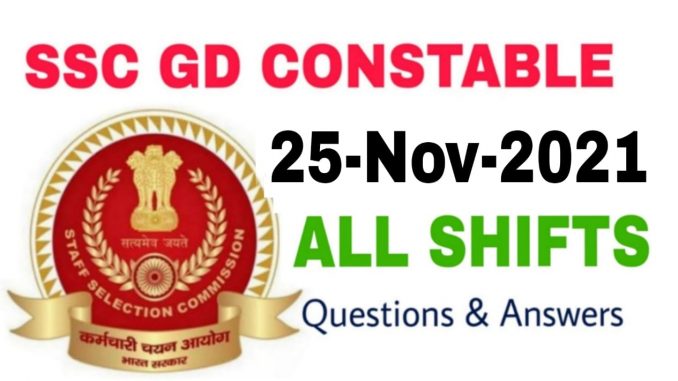 SSC GD 25 November 2021 All Shift Questions and Answers
SSC GD 25 November 2021 All Shift Questions and Answers SSC (Staf Selection Service) recruit candidates for the General Duty post of BSF, CISF, ITBP, CRPF, NIA, SSF, SSB, Rifleman. SSC GD is Paramilitary jobs youth very interested to join in this jobs but they don't have awareness fully that's reason we provide full details of SSC GD. in this Website we provide General Knowledge and English Exam Review with answers so this is very important so don't Neglect this questions and answers.

1) How many times has Mumbai Indians won the IPL title till the year 2020
Ans: 5 times
2) Who has hosted the 13th BRICS Summit 2021
Ans: India
3) When is Epilepsy Day celebrated
Ans: 17 November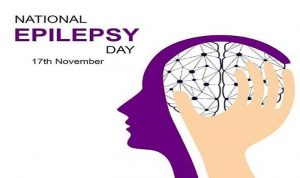 4) Who was the last Mughal ruler during the Mughal period
Ans: Bahadur Shah Zafar II
5) Which of the following player is not related to the game of Hockey
Ans: Manu Bhaker (Acc. to option)
SSC GD Constable General Awareness Questions PDF
SSC GD Number and Letter Series 100 Bits
SSC GD Top 100 Physics Questions and Answers
SSC GD Top 100 Chemistry Questions and Answers
6) Mahalwari system was started by
Ans: Lord Hastings
7) Cataract is related to eye then pneumonia is related to
Ans: Lungs
8) Malaria is caused by the bite of which mosquito
Ans: female Anopheles mosquito
9) Who has been given the Person of the Year 2019 award by PETA
Ans: Virat Kohli
10) Where will the Asian Games 2022 be held
Ans: China
11) Lal Bagh Garden is in which state
Ans: Karnataka
12) Where is Chandoli National Park located
Ans: Maharashtra
13) When was Royal Tiger declared as National Tiger
Ans: 1973
14) Kathmandu is situated on the bank of which river
Ans: Bagmati river
15) When was the Battle of Plassey
Ans: In 1757
16) There are total how many States In India which have coastline
Ans: India's coastline touches Nine states-Gujarat, Maharashtra, Goa, Karnataka, Kerala, Tamil Nadu, Andhra Pradesh, Odisha, West Bengal State, and two joint territories-Dammam, Diu, and Puducherry
17) " Why i am Hindu"  Book Writer by
Ans: Shashi Tharoor
20) In which of the following Nutrients is produced by eggs
Ans: Protein, Calories
21) Wangala festival is celebrated in which state of india
Ans: Wangala Festival of Meghalaya is a most popular festival among the Garos of Meghalaya, India
22) Question Figure
23) Directions
24) Time and Work
25) Surds
26) Volume and Area
27) Which is the smallest continent
Ans: Asia, Africa, North America, South America, Antarctica, Europe, and Australia.
28) In which year was the east India company established
Ans: 31 December 1600
29) How many bones are in the thumb?
Ans: The thumb has two bones
30) How many high courts are present in India?
Ans: 25 High Courts
Note: 
Largest: Allahabad High Court
Oldest High Court: The Calcutta High Court
Calcutta High court is the oldest high court in India, it was established in the year 1862.
In the same year, Bombay and Madras High court were established.
Bombay, Madras, and Calcutta are the three chartered high courts in India.
There are currently twenty-five high courts in India as of September-2020.
Telangana and the Andhra Pradesh high courts are the newly-formed high courts of India, which were formed in the year 2019.
Barnes Peacock was the first chief justice of the Calcutta High court, which assumed charge on 1 July 1862.
Sir Mathew Richard Sausse was the first chief justice of the Bombay High court.
In India, Chief Justice of High Court is appointed by President.
Articles 214-231 deals with the provisions of the High Courts in India.
Article 217 deals with the appointment of judges.
According to Article 222, the President may after consultation with the chief justice of India transfer a judge from one High Court to any High Court.
Hight Court Judge sends his letter of resignation to the President.
Article 214 – High Court for each state.
Article 226 – Empowers the high court to issue writs.
The first Indian to become the Chief Justice of High court – P. B. Chakravarthi (Calcutta High Court).
The first Indian to become the judge of the High court – Sambhunath Pandit (Calcutta High Court).
The first woman Chief Justice of High court – Leila Seth (Himachal Pradesh).
The first woman to become the judge of the High court – Anna Chandi (Kerala).
The total number of High Courts in India – 25.
31) World Wetland day celebrated on which day
Ans: 2 February
32) Profit & Loss
33) Simple & Compound Interest
34) The study of the human body is called
Ans: Anatomy
35) Where is located kitam bird sanctuary
Ans: Sikkim
36) Number Series
37) Article 25 is related to 
Ans: The freedom of conscience
38) Analogy
39) Antonyms
40) Synonyms
41) one word substitution
SSC GD 24 November 2021 All Shift Questions and Answers
SSC GD 23 November 2021 All Shift Questions and Answers
SSC GD 22 November 2021 All Shift Questions and Answers
SSC GD 18  November 2021 All Shift Questions and Answers
SSC GD 17 November 2021 1'st Shift Questions and Answers
SSC GD 17 November 2021 2'nd Shift Questions and Answers
SSC GD 17 November 2021 3'rd Shift Questions and Answers
SSC GD 16 November 2021 1'st Shift Questions and Answers
SSC GD 16 November 2021 2'nd Shift Questions and Answers
SSC GD 16 November 2021 1'st Shift Questions and Answers