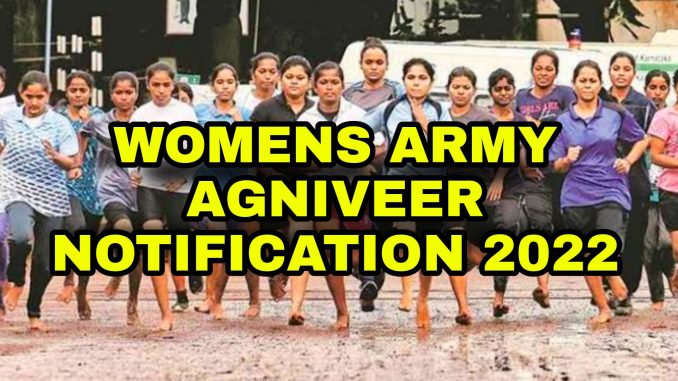 Womens Army Rally Agniveer Notification 2022Army Recruitment Rally under the aegis of Headquarters Recruiting Zone, Chennai will be conducted from 27 Nov 2022 to 29 Nov 2022 at Police Recruit School, Vellore (Tamil Nadu) to enroll eligible Agniveer General Duty (Women) in Corps of Military Police from Tamil Nadu, Andhra Pradesh, Telangana, Union Territory of Puducherry (Karaikal, Yanam & Puducherry) and Andaman & Nicobar Island (Nicobar, North & Middle Andaman and South Andaman). Admit Cards will be issued online after 01 Nov 2022. Candidates are requested to bring their Admit Card, application & documents mentioned in the Admit Card at the rally site. Print out of Admit Card can be taken after 01 Nov 2022 Application Dates, Education qualification, Age limit, Written test, Physical test, Medical Test, Previous question papers, Merit list, the total given below Check Now.

Womens Army Rally Agniveer Notification 2022
| Organization | Indian Army Recruitment Rally |
| --- | --- |
| Scheme Announced | 14-June-2022 |
| Starting Date to Apply Online | 07-August-2022 |
| Ending Date to Apply Online | 09-September-2022 |
| Admitcard Release date available | After 01-Nov-2022 |
| Rally Starting dates Feb | 27-Nov-2022 |
| Rally End Date | 29-Nov-2022 |
| Rally Place | Police Recruit School, Vellore (Tamil Nadu) |
| Total Vacancies | Various |
| 1st Batch Training Begin | December 2022 |
| Training Duration | 10 Week to 06 Months |
| Similar Jobs | Click Here |
SSC GD 2023 Notification Full Details Click Here
Eligibility Details
Category
Age (in years)
Education Requirement
Agniveer (General Duty) Women in Corp of Military Police
17½- 23#
Class 10th /Matric pass with 45% marks in aggregate and 33% in each
subject. For boards following grading system, min of 'D' grade (33% – 40%) in individual subjects or grades with 33% in individual subjects and overall aggregate of 'C2' grade or equivalent corresponding to 45% in aggregate.
Note: Candidates with valid Light Motor Vehicle (LMV) Driving Licence will be given preference for Driver requirements.
Age Limit (As on 01/10/2022 )
Minimum Age Required : 17.5 Years
Maximum Age Limit : 23 Years
Age Limit as on : 01 October 2022
Note: # The upper age limit has been relaxed from 21 years to 23 years as a onetime measure for the Recruiting Year 2022-23.
Minimum Physical Requirements:
Height:– 162 cms
Weight: – Proportionate to height and age as per Army Medical standards.
Chest Expansion: – The candidate should be capable of chest expansion of 05cms.
Physical Efficiency Test (PET):
| Physical Fitness Test ( At Rally Site ) | Time |
| --- | --- |
| 1.6 Km Run- Group -I | Upto 7 Min 30 Sec |
| 1.6 Km Run- Group -II |   Upto 8 Min |
| Long Jump 10 Feet | Need to qualify |
| High Jump 3 Feet |   Need to qualify |

Army All Trades New Syllabus and Pattern:


Important Facts Of Agneepath Recruitment Scheme 2022
The selection of youths will be recruited for short term i.e. 4 years.
Apart from this, 25 per cent of the soldiers can continue in the army with skill and efficiency. However, this would have been possible if there had been recruitment in the Army at the time.
Under the Agneepath scheme, the youth will get an annual package of Rs 4.76 lakh for the first year. By the fourth year, the package will be Rs 6.92 lakh. Apart from this, other allowances are also available.
A service fund of Rs 11.7 lakh will be provided to the youth after 4 years of service. No tax will be levied on this service fund.
If a firefighter dies in the service of the country, his family members will be entitled to Rs. More than 1 crore will be available. Apart from this, the salary for the rest of the job is also given.
At the same time, Agniveer will be given up to Rs 44 lakh if ​​anyone is disabled. Apart from this, salary for the rest of the job will also be available.
Indian Army Agniveer Selection Process
Physical Fitness Test
Medical Test
Written Exam
Merit-list
Medical Standards:
(a) Fitness. To be deemed Fit, a candidate must be in good physical and mental health and free from any disability likely to interfere with the efficient performance of military duty in all weather and across all terrains. The selected candidates will have to appear for medical examination during the recruitment rally as per laid down medical standards. Unfit candidates will be referred to MH / CH / BH for specialist review. Candidates referred for specialist review should present themselves to the nominated MH / CH / BH within 14 days of the referral and report back to ARO for issue of Admit Card for CEE, in case declared FIT.
Written Test through Common Entrance Examination (CEE):
(a) Will be conducted for medically fit candidates at nominated venue. Location, date and time of written test will be intimated at rally site and through Admit Cards.
(b) Admit card for the CEE for the Review Fit cases will be issued after declaring medically fit by concerned specialists at Military Hospital/Base Hospital/ Command Hospitals.
(c) Negative marking would be applicable in CEE.
(d) Result of written examination will be declared on the official website joinindianarmy.nic.in. No separate letter will be sent to the candidate. It is the responsibility of the candidate to check his result and report to ARO for documentation.

Documents / Certificates to the rally site:
1)Admit Card.
2)Photograph
3)Education Certificates.
4)Nativity/Domicile Certificate.
5)Class/ Caste Certificate.
6)Religion Certificate.
7)Character Certificate.
8)NCC Certificate.
9)Relationship Certificate.
10)Unmarried Certificate.
11)Aadhar Card.
12)Affidavit.

Army Tradesman Previous Exam papers

Army GD Previous Exam Papers

Army Nursing Previous Exam papers

Army Clerk Previous Exam Papers

Army Technical Previous Exam Papers

Click Here Terms and Conditions

Download Notification Click Here