Indian Coastguard DB GD Yantrik Notification 2022 Online applications are invited from male candidates possessing educational qualifications and age as prescribed below, for recruitment to the post of Navik (General Duty), Navik (Domestic Branch) and Yantrik in the Indian Coast Guard, an Armed Force of the Union. This is a good opportunity for 10'th/Inter/Diploma holders. Online Application dates, Education Qualification, Age Limit, Selection Process, Salary, Job Profile total are given below check now.
Indian Coastguard DB GD Yantrik Notification 2022
| Organization | Indian Coastguard |
| --- | --- |
| Notification Name |  Navik (General Duty), Navik (Domestic Branch) and Yantrik |
| Starting Date to Apply Online | 08-September-2022 |
| Last Date for Registration | 22-September-2022  (24-September-2022) |
| Application Form Edit | available from 11 Oct 22 (1100 hrs) to 13 Oct 22 (1059 hrs) |
| Admit Card Available | 72 to 48 hours before the date of exam |
| Stage-I Exam Date | Mid/End November 2022 |
| Results | Click Here |
| Stage-II Exam Dates for Navik (GD, DB) & Yantrik | Mid/End-Jan-2023 |
| More Latest Jobs | Click Here |
Application Fee
General / OBC / EWS : 250/-
SC / ST : 0/-
Pay the Exam Fee Through Debit Card / Credit Card / Net Banking Fee Mode Only.

Age Limit
Minimum Age : 18 Years.
Maximum Age : 22 Years.
Age between dates  01-May-2001 to 30-April-2005 for ICG Navik & Yantrik
Note:- 18-22 years (5 Years relaxation for SC/ST, if the posts are reserved for them and 3 Years for OBC, if the posts are reserved for them)
Educational Qualification & Vacancy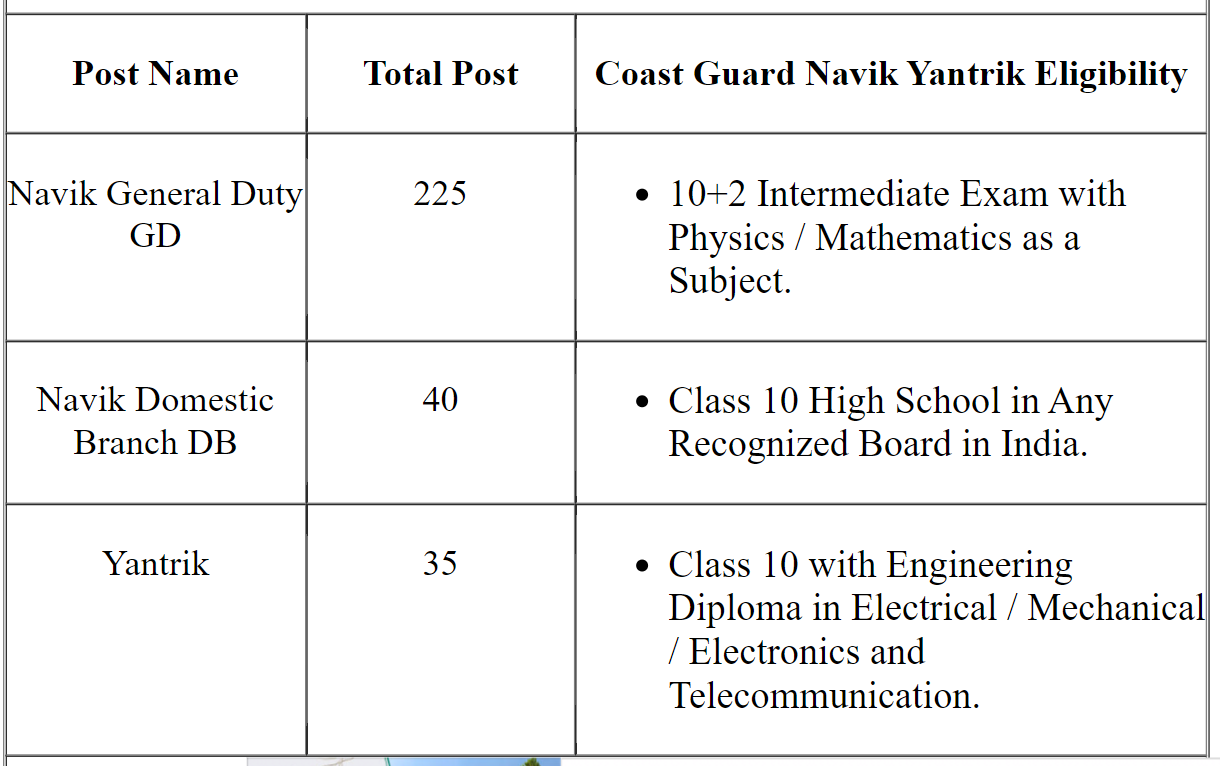 One Lakh SSC Notification 2021 Full Details

Click Here For 75,000 Jobs Notification Full Details
Note: (a) These vacancies are tentative and may change depending on availability of training slots.
(b) For simplicity, Yantrik (Electronics & Tele Communication (Radio/Power)) will be referred as Yantrik (Electronics) in the advertisement.
(c) Even if there is no vacancy reserved for SC/ST/OBC(non-creamy)/ EWS category candidates, such candidates can still apply. However, they will not be eligible for any age and passing marks concession/relaxation etc. SC/ST candidates are exempt from payment of application fee even in such case.

10th Based Defence Jobs


ITI Based Defence Jobs


Diploma Based Defence Jobs


Inter Based Defence Jobs
Selection Process
The selection of recruits is based on an all India order of merit on their performance in Stage-I, II, III & IV(explained in detail below) and the number of vacancies available for the post. Clearing of Stage-I, II, III, IV and satisfactory performance in training is compulsory for recruitment in ICG. All candidates will be compulsorily subjected to biometric, photo identification and document verification during stage-I, II, III & IV of the selection procedure. The details of various stages are as follows: –
Written Exam
Physical Fitness Test
Medical Test
Merit-list
i.Written Exam
Based on the performance in the Computer Based Online Examination, a merit list will be prepared and e-admit card for stage-II will be issued as per the vacancies available and ratio decided by ICG.
The candidate has to choose the correct option.
There is no negative marking in the written examination test.
E-admit card for stage-II will not be generated till the additional documents are uploaded by the candidates within a time period as mentioned on ICG website
Tentative schedule for examination and downloading e-admit card. The tentative dates for examination are as follows
| Cadre | Stage-I | Stage-II | Stage-III& IV |
| --- | --- | --- | --- |
| Navik(GD) | Mid/End November 2022 | Mid/End Jan 2023 | End April/ Early May 2023 |
| Navik(DB) | Mid/End November 2022 | Mid/End Jan 2023 | End April/ Early May 2023 |
| Yantrik | Mid/End November 2022 | Mid/End Jan 2023 | End April/ Early May 2023 |
Examination City
The candidate is to give five preferences for examination city in the application for stage-I & II process.
The first choice for examination city for SC/ST candidates has to be within 30 Km from their place of current address from where the candidate will appear for exam.
If no "examination city" is within 30 Km from the current address then the nearest "examination city" from current address has to be the first choice of the candidate.
Indian Coast Guard reserve the right to allot examination city for stage-I (written examination) and stage-II (PFT/Medical) which may or may not be as per the choice of the candidate.
ii.Physical Fitness Test (PFT)
➣ PFT will be conducted for all those who qualify the written tests. Candidates undergoing PFT will do so at their own risk. All candidates are advised to be in possession of sport rig (Shoe, T-shirt, Trouser etc). The PFT consists of:-
| S.no | Events | Qualify |
| --- | --- | --- |
| 1 | 1.6 km Running | 7 Minutes |
| 2 | Push-ups | 10 |
| 3 | Squat ups (Uthak Baithak). | 20 |
iii.Medical Standards
Medical examination will be conducted by authorized military doctors as per medical standard prescribed in current regulations applicable to Enrolled Personnel on entry.
| S.no | Height(cm's) | Chest(cm's) | Weight(cm's) |
| --- | --- | --- | --- |
| 1 | 157 cm | 5 cm expansion | 55 kg |
Height: Minimum height 157 cms. Reduction in height forcandidates from hilly areas and tribal areas will be in accordance with the Central Govt. orders.
Chest: Should be well proportioned. Minimum expansion 5 cms.
Weight: Proportionate to height and age +10% acceptable.
Hearing: Normal.

Coastguard GD Syllabus Click Here

Coastguard DB Syllabus Click Here

Coastguard Yantrik Syllabus Click Here
Result declaration
The result of each stage of selection procedure from stage-I to stage-III can be accessed by login to the candidates account on ICG website. The result of the online examination at stage-I will be announced tentatively within 20 days.

Documents For Coastguard Online Application 
Training
The basic training for Navik (General Duty) and Yantrik will commence in Feb 2023 and Navik (Domestic Branch) in April 2023 at INS Chilka followed by sea training and professional training in the allotted trade. Branch/trade will be allocated as per the requirement of service and performance during basic training. Naviks(GD/DB)/Yantriks are liable to be discharged as UNSUITABLE if their progress (including academic) or conduct is unsatisfactory at any time during training. Trainees are also liable to be discharged at any stage of training if their online application or the documents are found to be falsified at the stage of recruitment.
Apply Online Click Here