RPF Constable SI Syllabus and Exam Pattern 2022 RPF Constable Exam is divided into four parts which are Computer Based Test, Physical Efficiency Test, Physical Measurement Test, Medical Examination, Document Verification and Interview. There is no such change in the pattern of the RPF Constable Exam although some new regulations maintaining the Covid protocol will be implemented from 2022.

Selection Process
The selection of candidates for RPF Recruitment is done through Computer Based Test (CBT), followed by Physical Measurement Test (PMT), Physical Efficiency Test (PET) and Document Verification (DV). You can check the exam pattern below.
Computer Based Test (CBT)
Physical Efficiency Test (PET)
Physical Measurement Test (PMT)
Document Verification (DV)
Phase I Computer Based Test (CBT)
The Computer Based Test (CBT) consists of questions on Arithmetic, Reasoning, and General Awareness. The total marks allotted for the exam is 120 and the time duration is 90 minutes.
Subject
Questions
Marks
Marks
Arithmetic
35
35
90 Minutes
General Intelligence & Reasoning
35
35
General Awareness
50
50
Total
120
120
The exam will be an online-based examination (CBT).
It will consist of three different subjects namely General Awareness, General Intelligence and Reasoning, and Arithmetic.
There will be a total of 120 questions with a total of 120 marks.
The exam duration will be 1 hour 30 minutes. (90 Minutes)
Each question will weigh 1 mark.
The examination also has a negative marking of ⅓ for each wrong answer given by the candidate.
Note: Candidates can opt for any language of their choice from the given options which are English, Hindi, Urdu, Kannada, Tamil, Telugu, Malayalam, Konkani Bengali, Gujarati, Marathi, Odia, Punjabi, Assamese and Manipuri.
One Lakh Above Army Navy Airforce Jobs 2022-2023
SSC GD 2023 Notification Full Details Click Here
Delhi Police Constable Male/Female 2023 Notification
RPF Constable General Awareness Syllabus
This section has the most weightage (50 marks) in the CBT exam. Your knowledge regarding current affairs, news, politics, history, geography, etc. will be tested through this section. Here is the complete list of topics important for the General Awareness Section.
Current affairs
Events and developments in our society
Indian History
Art & Culture
Geography
Economics
General Polity
Indian Constitution
Sports
General Science
RPF Constable Arithmetic Syllabus
The second section in this exam is the Arithmetics section which deals with mathematical questions at large. You have to practice various types of arithmetical questions as 35 marks are available in this section. Hence, start solving as many problems from the topics given below for RPF Constable Arithmetic Syllabus.
Number systems
Whole numbers
Decimal and Fractions
Relationships between numbers
Fundamental Arithmetical Operations
Percentages
Ratio and Proportion
Averages
Interest
Profit and Loss
Discount
Use of table & graphs
Mensuration
Time & Distance
Ratio & Proportion

10th Based Defence Jobs


ITI Based Defence Jobs


Diploma Based Defence Jobs


Inter Based Defence Jobs
RPF Constable General Intelligence & Reasoning Syllabus
The third and final section of the RPF constable syllabus consists of 35 objective questions for a total of 35 marks. In this section, each candidate's mental ability and intelligence is tested through various topics such as logical thinking, analytical skills, reasoning, etc. You have to study each of the following topics properly to attain good marks in this section.
Analogies
Spatial Visualization
Spatial Orientation
Problem Solving Analysis
Decision Making
Visual Memory
Similarities & Differences
Discriminating Observation
Relationship Concepts
Arithmetical Reasoning
Classification of Verbal & Figure
Arithmetic Number Series
Syllogistic Reasoning
Non-Verbal Series
Coding & Decoding
Statement Conclusion
RPF Constable Phase II
In this phase, students must go through the Physical Efficiency Test and Physical Measurement Test. The students must pass the tests conducted by the Railway Protection Security Force. The height of the candidates both male and female are checked according to the requirements. No marks are allocated in this phase. But the students must meet the required measurements and pass the tests. The chest and height Measurements of the candidates must be as follows: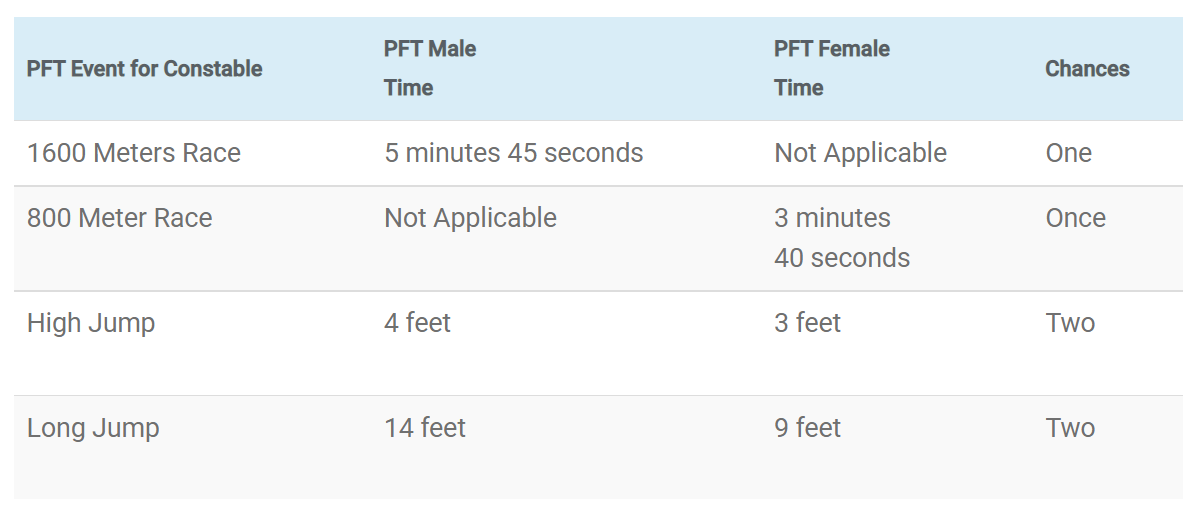 Physical Efficiency Test (PET)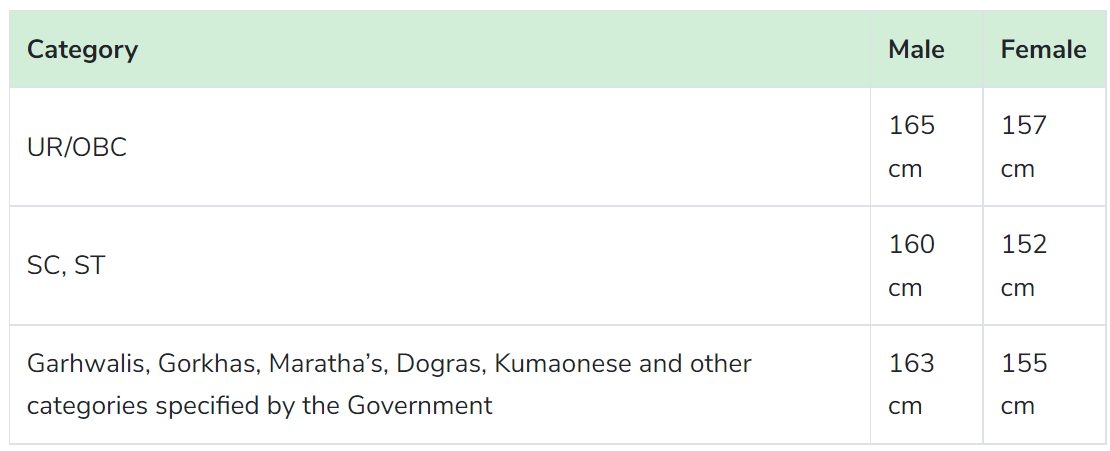 Physical Measurement Test (PMT)

RPF Constable Phase III
The candidates who qualify in the Phase I Computer Based Test and pass the PET and PMT tests are further shortlisted for the Documents Verification in phase III. Once the students are shortlisted they must attend the process for verifying with the original documents. The documents required to be submitted for the verifying process are:
10th Mark sheet
Proof of age
Caste Certificate
Transfer Certificate
Passport Size photographs
Salary structure for both Constable & SI is explained below