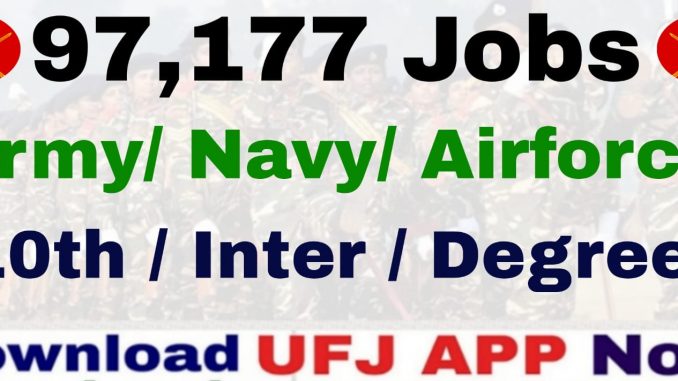 Notifications of over one lakh Army Navy Air Force jobs Most students want to try the best and best defense jobs to serve the country, but they have no idea what is the best way to get a defense job and what job is the best and more. Thus we provide notifications Release Time Selection Process Educational Qualification Age Limit Syllabus and Sample PFT (Physical Fitness Test) Medical Test and Interview Process Previous questions are given in full in this article.


The government informed Parliament on Monday that there was a shortage of 7,476 officers and 97,177 junior commissioned officers in the Indian Army. There are vacancies for officers in the Army Medical Corps, Army Dental Corps and Military Nursing Services. The share of the Army in vacant posts in the Armed Forces is the highest.
The Indian Navy is short of 1265 officers and 11,166 sailors, while the Indian Air Force has 621 officers and 4,850 airmen, Assistant Minister of State for Defense Ajay Bhatt told the Rajya Sabha. The minister listed the steps taken by the Narendra Modi government to reduce the shortage of personnel in the armed forces.
These activities include sustainable image projection, participation in career fairs and exhibitions, and promotional activities to raise awareness among young people about the benefits of pursuing a challenging and satisfying career in the Armed Forces. He said that motivational lectures were being conducted from time to time in schools, colleges, other educational institutions and National Cadet Corps camps to encourage the youth to join the Armed Forces. In addition, there have been improvements in promotion opportunities in the Armed Forces.

10th Based Defence Jobs


ITI Based Defence Jobs


Diploma Based Defence Jobs


Inter Based Defence Jobs
The minister clarified that the selection of officers was ongoing as per the Kovid-19 protocols and did not suspend the armed forces, adding that recruitment would take place as per the planned manpower requirement for the armed forces. The Indian Army conducted 47 recruitment rallies during the 2020-21 recruitment year. The Indian Navy undertook the recruitment of a batch of sailors during the 2020-21 recruitment year. The IAF also recruited airmen for 2020-21. Some recruitment rallies have been suspended due to COVID-19.
భారత సైన్యంలో 7,476 మంది అధికారులు, 97,177 మంది జూనియర్ కమీషన్డ్ అధికారుల కొరత ఉందని ప్రభుత్వం సోమవారం పార్లమెంటుకు తెలియజేసింది. ఆర్మీ మెడికల్ కార్ప్స్, ఆర్మీ డెంటల్ కార్ప్స్ మరియు మిలిటరీ నర్సింగ్ సర్వీసెస్‌లో ఆఫీసర్ల ఉద్యోగాలు ఖాళీగా ఉన్నాయి. సాయుధ బలగాల్లో ఖాళీగా ఉన్న పోస్టుల్లో ఆర్మీ వాటా అత్యధికం.
భారత నావికాదళంలో 1265 మంది అధికారులు, 11,166 మంది నావికుల కొరత ఉందని, భారత వైమానిక దళంలో 621 మంది అధికారులు, 4,850 మంది ఎయిర్‌మెన్‌లు ఉన్నారని రక్షణ శాఖ సహాయ మంత్రి అజయ్‌ భట్ రాజ్యసభకు తెలిపారు. సాయుధ దళాల్లో సిబ్బంది కొరతను తగ్గించేందుకు నరేంద్ర మోదీ ప్రభుత్వం తీసుకున్న చర్యలను మంత్రి జాబితా చేశారు.
ఈ కార్యకలాపాలలో స్థిరమైన ఇమేజ్ ప్రొజెక్షన్, కెరీర్ ఫెయిర్‌లు మరియు ఎగ్జిబిషన్‌లలో పాల్గొనడం మరియు సాయుధ దళాలలో సవాలు మరియు సంతృప్తికరమైన వృత్తిని కొనసాగించడం వల్ల కలిగే ప్రయోజనాల గురించి యువతలో అవగాహన పెంచడానికి ప్రచార కార్యకలాపాలు ఉన్నాయి. యువత సాయుధ దళాల్లో చేరేలా ప్రోత్సహించేందుకు పాఠశాలలు, కళాశాలలు, ఇతర విద్యాసంస్థలు, నేషనల్ క్యాడెట్ కార్ప్స్ క్యాంపుల్లో ఎప్పటికప్పుడు మోటివేషనల్ లెక్చర్లు నిర్వహిస్తున్నట్లు తెలిపారు. అదనంగా, సాయుధ దళాలలో ప్రమోషన్ అవకాశాలలో మెరుగుదలలు ఉన్నాయి.
కోవిడ్ -19 ప్రోటోకాల్స్ ప్రకారం అధికారుల ఎంపిక కొనసాగుతోందని, సాయుధ బలగాలను సస్పెండ్ చేయలేదని మంత్రి స్పష్టం చేశారు, సాయుధ బలగాలకు ప్రణాళికాబద్ధమైన మానవశక్తి అవసరం ప్రకారం రిక్రూట్‌మెంట్ జరుగుతుందని అన్నారు. 2020-21 రిక్రూట్‌మెంట్ సంవత్సరంలో ఇండియన్ ఆర్మీ 47 రిక్రూట్‌మెంట్ ర్యాలీలను నిర్వహించింది. ఇండియన్ నేవీ 2020-21 రిక్రూట్‌మెంట్ సంవత్సరంలో నావికుల బ్యాచ్ రిక్రూట్‌మెంట్‌ను చేపట్టింది. IAF 2020-21 కోసం ఎయిర్‌మెన్‌లను కూడా నియమించింది. COVID-19 కారణంగా కొన్ని రిక్రూట్‌మెంట్ ర్యాలీలు తాత్కాలికంగా నిలిపివేయబడ్డాయి.