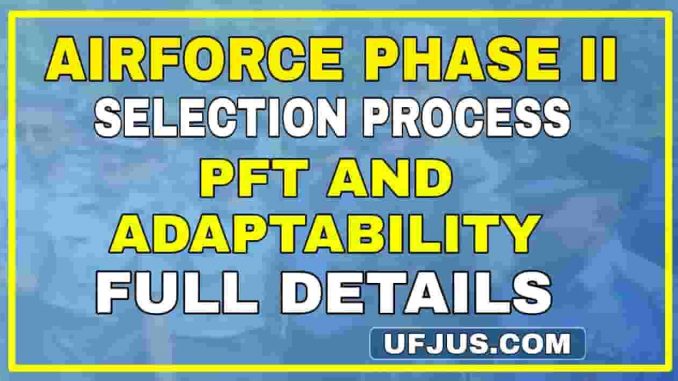 Indian Airforce Group-XY Phase II Selection Procedure Indian Air Force Release Notification twice every year in Technical / Non-Technical Branch Air Force Job is very good and who wants to try for this job, it is the best way to protect our country. Need to know the selection process and eligibility criteria and exam pattern Previous questions The full details given Here like Education qualification AgeLimit selection process syllabus and pattern total given in check now below.
Indian Airforce Group-XY Phase II Selection Procedure
Soon after the declaration of the result of Phase-I (Online) Test, a cut off will be applied based on the marks scored by the candidates in the Phase I Test and Shortlisted candidates will be sent a new admit card on their Registered e-mail ID for phase – II test at an Airmen Selection Centre. This admit card for phase – II exam can also be downloaded online under candidate's login on CASB web portal www.airmenselection.cdac.in.
Stage I-Candidates are to bring the following documents for the documentation process:
(a) Colour print out of Admit Card for phase – II.
(b) Colour Print out of duly filled application form downloaded on completion of online registration.
(c) HB Pencil, Eraser, Sharpener, Glue stick, Stapler and Black/Blue Ball Point Pen for writing.
(d) Eight copies of un-attested recent (which was used for the online application registration) passport size colour photographs.
(e) Original and four self-attested photocopies of Matriculation Passing Certificate (required for verification of Candidate's Name, Father's Name and his Date of Birth
(f) Original and four self-attested photocopies of Matriculation Marks Sheet (only applicable for three years Diploma Course holders when English is not a subject in Diploma Course).
(g) Original and four self-attested photocopies of Intermediate/10+2/Equivalent Examination Passing Certificate and Marks Sheet OR Original and four self-attested photocopies of three years Diploma Course Passing Certificate and Marks Sheets of all semesters.
(h) Certificate for SOAFP (Son of Air Force Personnel), certificate for sons of serving/retired/ deceased Air Force civilian employees paid out of defence estimates are to be downloaded as the case may be, from the download section of CASB web portal and brought along while reporting for phase –II of the examination.
(j) For Candidates discharged from Indian Army/Indian Navy/Any other Government Organisation: Original and four Self-attested photocopies of Discharge Certificate (as issued from Indian Army/Indian Navy/Government Organisation).
(k) Original Phase – I admit card used during Phase – I test bearing Air Force seal and invigilator's signature.
(l) NOC in original and 4 self-attested photocopies from the employer for candidates presently serving in any government organization (if applicable).
(m) Original and four self-attested photocopies of NCC 'A', 'B' or 'C' certificate (if applicable).
Note: Candidates discharged from the IAF for any reason are not eligible to appear in the selection test.

Airforce Group-XY Syllabus and Pattern
Stage II-Physical Fitness Test (PFT)
As per the merit list candidates who pass the Online Exam, whose names will be displayed on the CASB Web Portal www.airmenselection.cdac.in on a stipulated date will be called at designated Airmen Selection Centre for Physical Fitness Test (PFT).Physical Fitness Test is consist of:
1.6 Km run (to be completed within 06 minutes and 30 seconds)
10 push-ups
10 sit-ups
20 squats
Stage III- Adaptability test-I
Adaptability test-I is the first test to be conducted immediately after the documentation process is completed. This is the test of situation reaction in which a question paper consisting of 45 situations are given to the candidates.

AFCAT Full Selection Process Click Here
Example-
You are in a bus, the bus reaches your stop but still you have not purchased the ticket because of heavy rush, So what will you do ?
(a) Jump out without Paying
(b) Give money to a co-Passenger with a request to pay on your behalf.
(c) Donate equal money to a beggar
(d) Reach the conductor, give him the money and get the ticket.
Best Books For Airforce Group-XY Preparation:
Important instructions
45 multiple choice situations are given.
Candidates are given 30 minutes to attempt this.
Situations are bilingual.
It is mandatory to answer all the SRTs.
This test is qualifying in nature. Result of this test is announced within a couple of hours and all qualified candidates are retained for Adaptability Test-I. Those who fail to pass this test are sent back.
Stage IV-Adaptability test-II
Adaptability test-II is the next test. Basically, this is the test of group discussion where candidates are divided into smaller groups of 10-15 and are assigned a topic to discuss about the topic.Candidates are briefed about the test in hindi as well in English only.
Example-
Which sector is better For Working?
(a) Govt Sector
(b) Private sector
Click Here For Download Adaptability Free PDF 
Important instructions
A topic is given to the group
An officer makes everything clear about the topic.
Candidates are to sit in semi circle manner.
Before the discussion, every candidate introduces himself.
Preferred language in GD is English but if you a candidate stocks he can use Hindi but try to revert back to English as soon as possible.

10th Based Defence Jobs


ITI Based Defence Jobs


Diploma Based Defence Jobs


Inter Based Defence Jobs