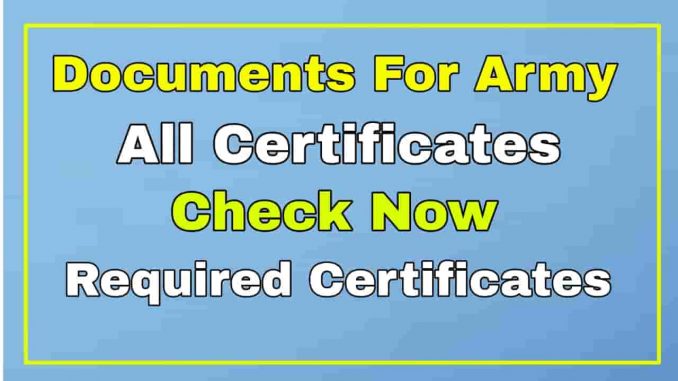 Documents Required For Army Open Rally The Candidates should bring the original and self-attested photocopies of the following documents in the Rally. Candidates are required to bring following documents / certificates in original with two attested photocopies with them to the rally site. If any candidate do not produce documents as per format mentioned below on the day he is being screened, he will be REJECTED :-

High School (10th) Marksheet and Passing certificate
Intermediate (12th) Marksheet and Passing certificate
Residence certificate (Domicile)
Caste Certificate
If the candidate's religion is not mentioned in the caste certificate then a religion certificate is required, it will be issued by Tehsildar/SDM.
School character certificate (or character certificate from candidate's last education institute).
Character Certificate with photograph issued by the Village Sarpanch / Municipal Corporation / Police issued within last six months.
An unmarried certificate with photograph issued by the Village Sarpanch/ District Administration issued within last six months (if candidate is below 21 years of age).
Relationship Certificate ( in case Son of Serving soldiers/ Widows/ War Widows and Ex-servicemen).
NCC A, B, C certificates if candidate is a NCC student.
 Sports Certificate if the candidate has appeared in the following
Computer Certificate- if the candidate has a O+ level certificate "Business Professional Certificate" issued by the DOEACC society.
16 latest passport size photographs not more than 6 months old with name and date printed on bottom of the  photograph. Both the ears of the candidates must be visible on the photographs. Sikh candidates must have photographs with and without turban.
All candidates are advised to bring a affidavit duly signed by the candidate on a stamp paper and attested by a Notary.
COVID-19 Certificate- All candidates will produce a COVID-19 Free/Asymptomatic Certificate and No Risk Certificate when they report for the rally. The Certificate should have been issued within 48 hours prior to the rally reporting day.
(a) Admit Card– Printed on Laser Printer on good quality paper (Do not shrink the size).
(b) Photograph– Twenty copies of unattested Passport size colour photographs developed on good quality photographic paper in white background not more than three month old. Computerised/photoshopped photographs will NOT be accepted.
(c ) Education Certificates- Education Certificates with marks sheet of all educational qualifications achieved by candidates i.e Matric/Intermediate/Graduation etc from recognised School/College/Board/University. Degree holder candidate will produce Provisional/Original Degree issued by University
(d) Domicile Certificate- Domicile Certificate with photograph issued by Tehsildar/District Magistrate.
(e) Caste Certificate – Caste Certificate affixed with photograph of the candidate issued by the Tehsildar/District Magistrate.
(f) Religion Certificate – Religion Certificate issued by the Tehsildar/SDM. (If religion as "SIKH/HINDU/MUSLIM/CHRISTIAN" is not mentioned in caste certificate).
(g) School Character Certificate – School Character Certificate issued by the School/College Principal/Headmaster.
(h) Character Certificate– Character Certificate with photograph issued by under mentioned authority within last six months from the date of candidate being screened (For example if the candidate is being Screened on 20 May 2021 his character certificate must be issued on 20 Nov 2020 or later) :-
Village Sarpanch.
Superintendent of Police.
(i) Unmarried Certificate – Unmarried Certificate for candidates less than 21 years of age with photograph issued by Village Sarpanch/Municipal Corporation within last six months.
(j) Relationship Certificate – SOS/SOEX/SOW/SOWW Candidates are required to produce the following documents :-
Relationship certificate issued from respective Record Office only duly signed by Record Officer with Personal number, Rank, Name and particular of the Record Officer issuing the Relationship Certificate with office seal/stamp is endorsed. In addition the candidate will also submit an affidavit duly affixed with joint photograph stating the relationship affirmed before a 1st Class Judicial Magistrate or notary. Format of affidavit attached as per Appendix "A".
A declaration to the affect as mentioned in the Affidavit on Ten Rupees Non Judicial Stamp paper prepared by the ESM duly signed by 1st class/Executive/Judicial Magistrate is required to be submitted by the candidate at rally site. Format of affidavit attached as per Appendix "B". (iii) Original Discharge Book of Ex-Serviceman also to be produced. Name and date of birth of the candidate must have been recorded in it.
(k) NCC Certificate – NCC A/B/C certificates and Republic Day Parade certificate should have photograph of the candidate duly attested by issuing authority. Provisional NCC A/B/C pass certificates will only be accepted if authenticated by concerned NCC Group Commanders.
(l)Sports Certificate
Sportsmen who have represented District at State level and University team or regional team at District level with 1st/2nd position within last two years. Sports certificates should be with registration number and from govt recognized sports institutes / bodies as under :-
All Sr / Jr National Championship certificates – Respective National Federation.
All State & Distt level certificates – Respective State Sports Association.
All University level certificates – Inter University Sports Board.
All School level certificates – All India School Games Federation.
(m) Affidavit –Duly signed by candidate on Rs 10/- Non-judicial Stamp Paper as per specimen attached to this notification duly attested by notary will be submitted by candidate.

Download Certificates PDF Click Here

10th Based Defence Jobs


ITI Based Defence Jobs


Diploma Based Defence Jobs


Inter Based Defence Jobs