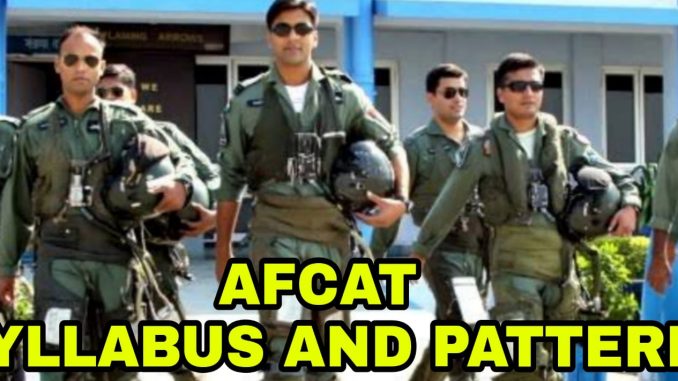 AFCAT Exam Latest Syllabus and Exam Pattern The selection process of AFCAT examination is conducted by the Indian Air Force (IAF). Through this entry, one can join the Flying branch, technical branch, and Ground Duty branches, etc. The selection process will consist of all the round including the Exam score, Interview and Group Discussion. Who wants to try this job candidates must know the selection process Eligibility criteria Syllabus and Pattern total given in this article.

AFCAT Exam Latest Syllabus and Exam Pattern
AFCAT Exam Pattern
The conducting body has divided the AFCAT selection process 2020 into three phases –
AFCAT Online Exam for all candidates
EKT (for Technical candidates)
AFSB Interview
Final Selection after Medical Examination.
Exam Pattern of EKT & AFCAT
The AFCAT is conducted for Non-Technical candidates.
AFCAT is an online exam with objective type questions, having multiple options.
Questions will be in English only and will cover these four sections: Verbal Ability, General Awareness, Reasoning and Numerical Ability and Military Aptitude Test.
The duration of the AFCAT test is two hours. A total of 100 questions will be asked in the question paper carrying weightage of 300 marks.
The EKT exam is Engineer knowledge test. This test is only for candidates who opt for Ground duty technical branch.
Candidates will be given 45 minutes to solve 50 questions in the EKT test. The maximum marks allotted to the exam are 150. The EKT test will carry questions from Mechanical, Computer Science and Electrical & Electronics.
| Exam | AFCAT | EKT (only for technical) |
| --- | --- | --- |
| Mode of Exam | Online | Online |
| No. of Questions | 100 | 50 |
| Maximum Marks | 300 | 150 |
| Duration of Exam | 2 hours (120 minutes) | 45 minutes |
| Sections in Paper | General Awareness, Verbal Ability in English, Numerical Ability and Reasoning and Military Aptitude Test | Mechanical, Computer Science and Electrical & Electronics |
| Negative Marking | 1 mark | 1 mark |
AFCAT Marking Scheme & Important Pointers
For each correct answer, candidates will be awarded 3 marks.
No marks will be awarded or deducted for questions that are left unattempted.
For each wrong answer candidates will lose 1 mark.
Marking two answers for one question will be considered a wrong attempt and will deduct 1 mark.
Questions will be based on the metric system of Weights & Measures wherever applicable.
Candidates are required to secure the minimum qualifying marks to qualify the exam.
The Air Force has the discretion to fix qualifying marks in any or all the subjects of the examination.
AFCAT Syllabus: General Awareness
This section tests the general knowledge of the candidates. The questions are designed on the basis of ongoing, current events in various fields around the world. About 20 questions are asked in this section.
The major topics covered in this section are given below:
History
Sports
Geography
Art and Culture
Current Affairs
Politics
Civics
Environment
Defense
Basic Science
Airforce General Awareness Questions and Answers
AFCAT Syllabus: English
This section tests the proficiency of student in English. The knowledge of language through comprehension is also a part of this section. Total number of questions asked from this section will be about 30.
The important topics for this section are:
Comprehension
Basic Grammar
Fill in the blanks by choosing the appropriate word
Tenses
Error Detection
Sentence Completion
Synonyms and Antonyms
Testing of Vocabulary
AFCAT Syllabus: Numerical Ability
This section is to check the knowledge, speed and accuracy of the student in solving numerical problems.Basic Mathematical concepts are covered. The important topics of this section are as follows:
Decimal and Fraction
Simple Interest & Compound Interest
Time & Distance (Trains/Boats & Streams)
Percentage
Ratio & Proportion
Time and Work
Average
Profit & Loss
AFCAT Syllabus: Reasoning and Military Aptitude Test
Practice with questions from the topics mentioned below to improve your Reasoning & Aptitude sections
Odd One Out
Analogy
Venn Diagram
Pattern Completion
Dot Situation Analysis
Blood Relation
Missing Figures
Figure Classification
Coding and Decoding
Spotting the Embedded Figures
Sequencing
EKT Syllabus
EKT is Engineering Knowledge Test conducted for candidates opting for Ground Duty (Technical) branch. The syllabus of EKT comprises topics from Electrical & Electronics Engineering, Mechanical and Computer Science Engineering.
Detailed EKT syllabus is as follows:
EKT Syllabus Mechanical Engineering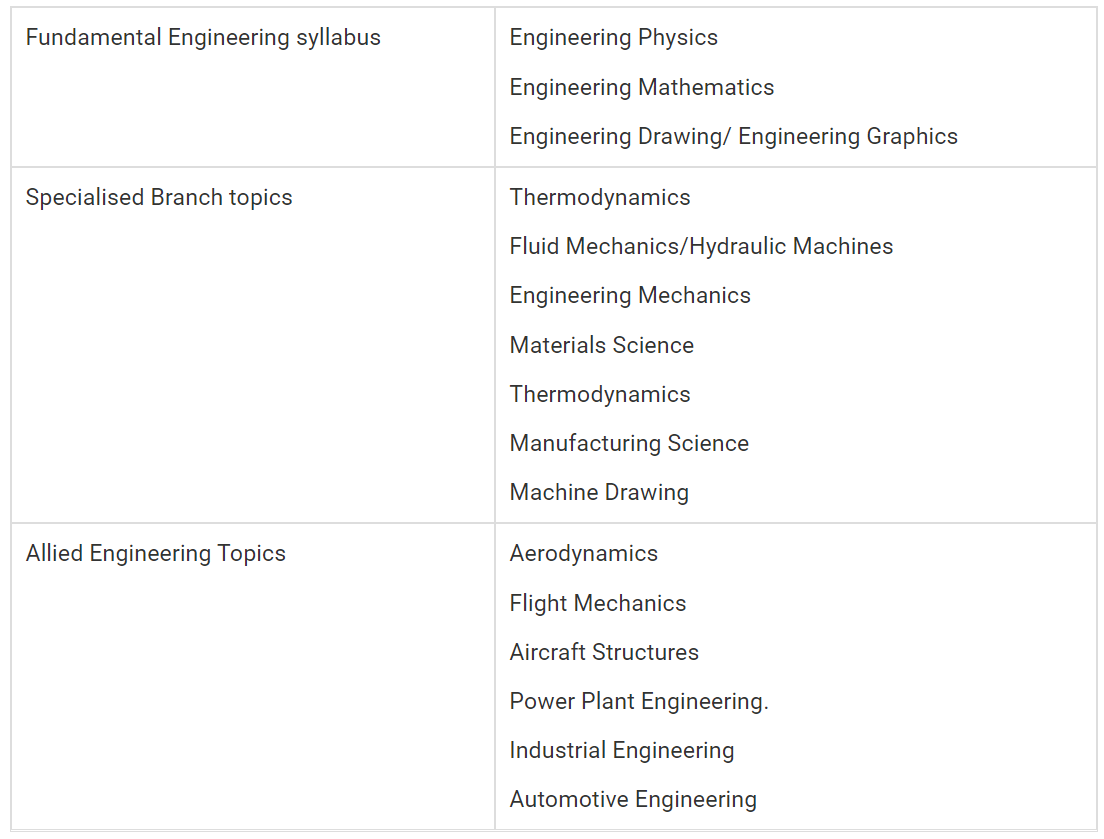 EKT Syllabus for Computer Science Engineering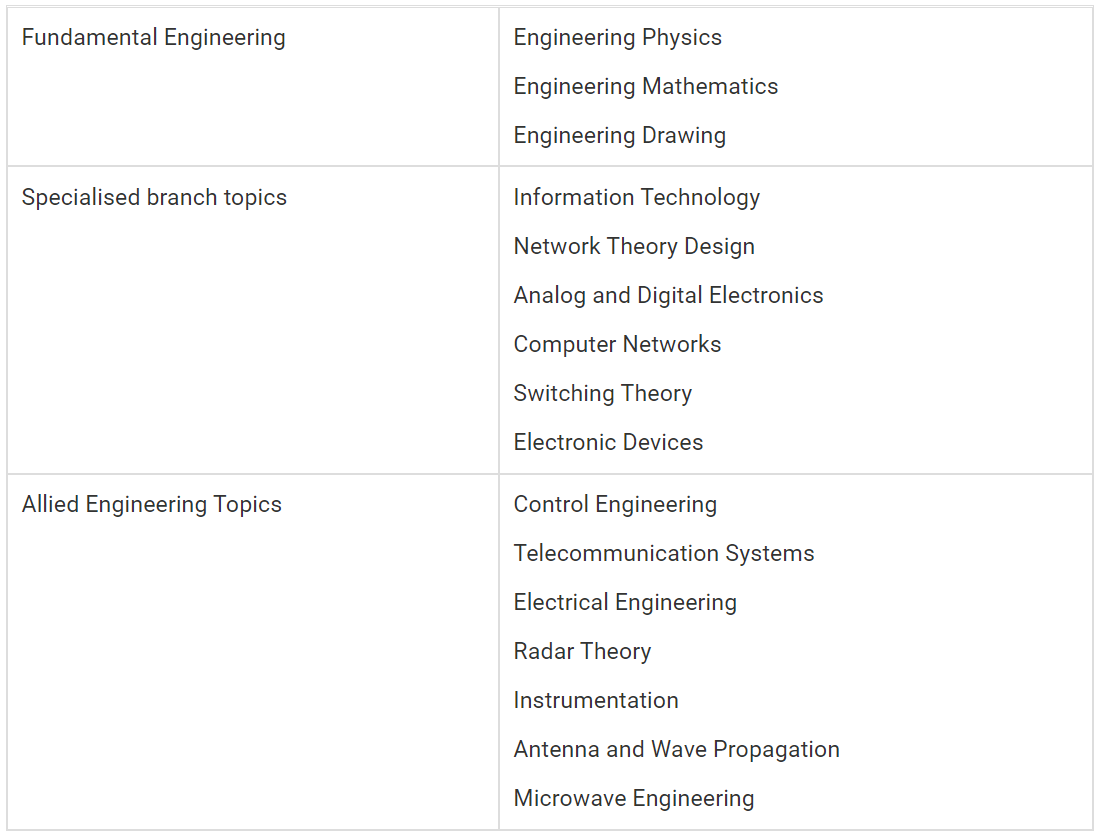 EKT Syllabus for Electrical & Electronics Engineeringf