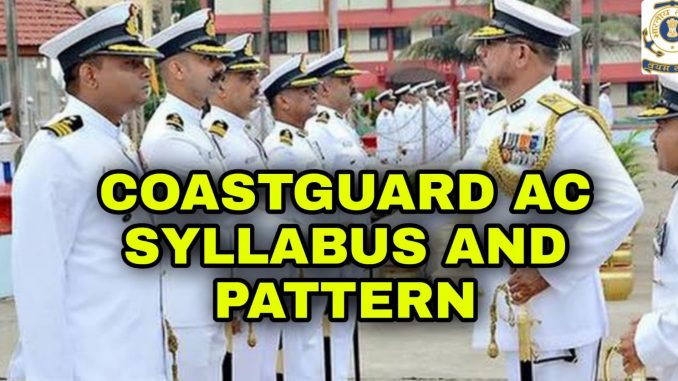 Coastguard Assistant Command New Syllabus and Pattern Indian Coast Guard notification release for officer level jobs every year Lot of members wants to get this job but they don't have full of awareness thats why we given full information about Syllabus and Pattern Education qualification, Age limit, Written test, Physical test, Medical Test and Interview Process, Previous question papers, Merit list, total given below Check Now.
Selection process
(a) Short Listing of Applications
Short listing criteria will be based on higher percentage of marks in the qualifying examination and the qualifying cut off for a particular branch or center may be increased more than 60% if more applications with higher % are received.
Stage -I
The S

tage

–

I would include conduct of 

screening

 

Test 

for the eligible applicants which will be a Computer Based Examination conducted at

 

various 

centers all over India.

Screening test is to be conducted for candidates applying for the post of 

GD / PN / CPL / Technical (Mechanical / Electrical & Electronics)

 

except Law

 

entry candidates and 

D

epartmental

 

Promotion

 

(DP)

entry candidates

.

The screening test will be conducted in MCQ 

pattern with maximum marks of

 

400

 

consisting of 100questions with

 

four

 

marks for each 

correct answer

 

and

 

one negative marking for each

 

incorrect answer

.

The duration of the 

exam will be of 2 hours

 

and medium

 

of

 

test 

paper 

will

 

be

 

English

.

The candidate has to take 

following tests depending o

n

 

post applied:

–
Section-I (for GD / PN / CPL / SSA (Women)
Subject
Questions
Marks
Marks
English
25
100
02 Hours
Reasoning & Numerical Ability
25
100
General Science & Mathematical aptitude
25
100
General Knowledge
25
100
Total
100
400
Section-II (for Mechanical)
Subject
Questions
Marks
Marks
English
10
40
02 Hours
Reasoning & Numerical Ability
10
40
General Science & Mathematical aptitude
10
40
General Knowledge
10
40
Mechanical
60
240
Total
100
400
Section-III (for Electrical & Electronics)
Subject
Questions
Marks
Marks
English
10
40
02 Hours
Reasoning & Numerical Ability
10
40
General Science & Mathematical aptitude
10
40
General Knowledge
10
40
Electrical & Electronics
60
240
Total
100
400

10th Based Defence Jobs


ITI Based Defence Jobs


Diploma Based Defence Jobs


Inter Based Defence Jobs
Syllabus of ICG AC – Mathematics
Partial fractions.
Algebra.
Binomial Theorem.
The Transformation of Axes.
Inverse Trigonometric Functions.
Mathematical Induction.
Permutations and Combinations.
Complex Numbers.
Pairs of Straight Lines.
Definite Integrals.
Coordinate Geometry.
The product of Vectors.
Parabola.
Differentiation.
Applications of Derivatives.
Direction Cosines and Direction Ratios.
Properties of Triangles.
Probability.
Hyperbola.
Ellipse.
Random Variables and Probability Distributions.
Hyperbolic Functions.
Three-Dimensional Coordinates.
Additions of Vectors.
Circle.
Integration.
Theory of Equations.
Differential equations.
The system of circles.
Matrices.
Trigonometry.
The Straight Line.
Indian Coast Guard AC Syllabus – Chemistry
Organic Synthesis.
Redox Reactions.
Bio-inorganic chemistry.
Thermodynamics.
Quantum Chemistry.
Electrochemistry.
Photochemistry.
Acids and Bases.
Analytical Chemistry.
Analytical Technique.
Chemical Kinetics.
Structure and Bonding.
Nuclear chemistry.
Chemistry of Transition Elements.
Inorganic reaction mechanism.
Indian Coast Guard AC Syllabus – English
Idioms & Phrases.
Tenses.
Comprehension.
Sentence Rearrangement.
Direct/Indirect Speech.
Grammar.
Active & Passive Voice.
Transformation of Sentences.
Synonyms.
Vocabulary.
Articles.
Verb.
Fill in the Blanks.
Adverb.
Unseen Passages.
Antonyms.
Subject-Verb Agreement.
ICG AC Syllabus – General Knowledge
Indian National Movement.
History – India & The World.
Indian Constitution.
Economy.
Geography – India & The World.
General Polity.
Science & Technology.
Cultural Heritage.
Current Affairs – National & International
About India etc.
ICG Group A Exam Syllabus- Physics
Atomic and Molecular Physics.
Classical Mechanics and Relativity.
Condensed Matter Physics
Experimental Physics.
Electromagnetic Theory.
Quantum Theory and its Applications.
Thermodynamics and Statistical Mechanics.
Electronics.
Mathematical Methods.
Nuclear and Particle Physics.
ICG Assistant Commandant Syllabus  – Numerical Aptitude
Time & Work.
Simple & Compound Interest.
Mensuration.
Ratio & Proportion.
Time & Distance.
The test of Arithmetical and Numerical abilities.
Fractions.
Decimals.
Profit & Loss.
L.C.M.
Discount.
Percentage.
H.C.F.
Discount.
Tables & Graphs.
Average.
Number Systems including questions on Simplification etc.
Stage -II
(b) Preliminary Selection
Shortlisted candidates will be called for Preliminary Selection at given date and time which will consist of Mental Ability Test/ Cognitive Aptitude Test and Picture Perception & Discussion Test PP & DT). The aptitude tests will be in English only and will be of objective type. During PP & DT the candidates are expected to speak and discuss in English. However, they are free to speak in Hindi if they wish to do so. Date/ time and venue of Preliminary Selection once allotted will not be changed at any stage.
(c) Final Selection. The candidates who qualify Preliminary Selection will be called for Final Selection. The date and venue for Final Selection Board (FSB) will be uploaded on Indian Coast Guard website www.joinindiancoastguard.gov.in. The Final Selection will consist of Psychological Test, Group Task and Interview (Personality test). All documents/ certificates verified during PSB are also required to be produced in originals during FSB.
(d) Medical. All candidates recommended by Final Selection Board will undergo Medical examination at nearest Military Hospital. Candidates for GD (Pilot) will undergo medical at AFCME, Delhi.
(e) CPSS. GD (Pilot) candidates on qualifying FSB will be required to appear for CPSS at Dehradun/Mysore AFSBs. Those already qualified CPSS are to provide details of batch, Chest number, date and place while filling up PIQ forms during FSB.
(f) Validity of Selection. The candidate's selection pertaining to a particular batch is valid for that batch only. Qualified candidates whose names do not appear in the final merit list will have no rights for automatic selection for the next batch. Such candidates will have to undergo the selection procedure afresh provided that they meet the eligibility criteria for the fresh batch.
Merit List
i) Recommendation in FSB does not confirm final selection. A merit list will be prepared for the medically fit candidates on the basis of marks obtained by the candidates at FSB and depending upon the availability of vacancies.
ii) The number of vacancies may vary from branch to branch and will be decided at a later date depending on the number of training vacancies available at training establishments.
iii) The list of candidates selected on the basis of merit list will be uploaded in Coast Guard recruitment website www.joinindiancoastguard.gov.in
iv) The joining letters will be issued accordingly. The training at INA, Ezhimala is scheduled to commence.
➣ Based on the performance in the written examination, candidates will be shortlisted for initial recruitment medical examination (Preliminary) in a ratio as may be decided by the Indian Coast Guard. The select list will be prepared from the candidates who qualify in all the tests depending upon the available vacancies. The Zone wise select list of candidates will be displayed in the Indian Coast Guard Website www.joinindiancoastguard.gov.in . Mere declaration of fit in initial medical examination does not indicate selection of the candidate for the final medical at INS Chilka.