Defence Medical and Physical Test Explanation  Now a days Lot of students try to Defence jobs but they fail in Physical and Medical Test Medical test total body checkup  like Eyes nose ear Hand/Elbow/Finger  legs body surgery's and  mouth Chest Teeth Color blindness Hart beat Skin Diseases knock Knees Flat foot  Tattoo etc. In this Physical Test  Running improve Tips and Chest Improve Tips and Breathing control Tips and pull-ups Tips and Push-ups Tips and  Medical workouts more so we provide Medical test clear and PFT Practice workouts also given very clearly so see all problems and we provide how to solve with workouts this is very use full for all Department jobs total given in this article.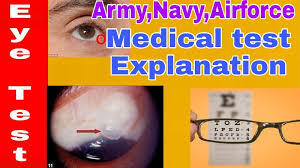 Medical test is a most important and Major for all Defence jobs so dont neglect medical test. Medical Officers must check Each and every part  they are very experience in this field so they are easily identify defect of in our body. Army Navy Airforce Territorial Army  NDA Coastguard CISF BSF CRPF DRDO etc these all Selection process one of the part of Medical test.
Physical test also very important: Physical test is a most important for all trades of  Defence jobs so Every one must practice  Physical and Every trade is a different type of PFT  process and PFT is most important to learn your pace. Recognize breathing, arm swing, leg stride, foot strikes and create muscle memory of exactly how you should feel when you are running at your goal pace. As you get into better shape, you should feel better throughout the running event.
10th base Defence Jobs                                          Inter Base Defence Jobs