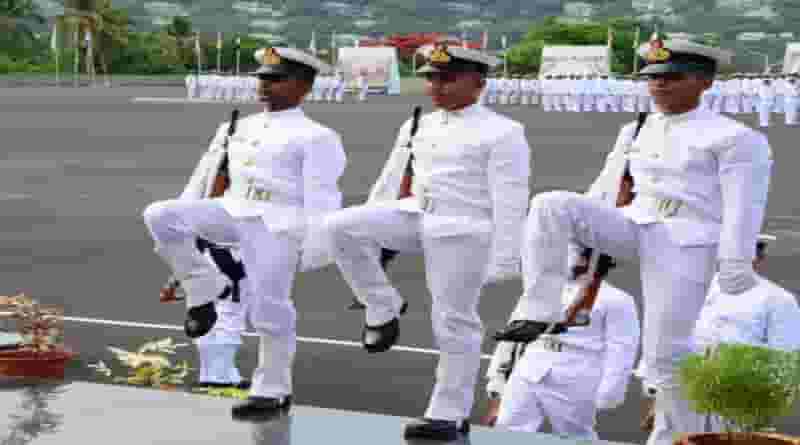 How Many Ways to Get Navy Job: Lot of Students wants to get defence job but there does not have any idea which way is better to get Navy job higher level and Some candidates know the What type of jobs there but they doesn't know how to prepare exams and PFT and Interview and more That's way we provide All Navy trades selection process and total Information given in this article.
All Navy Trades Selection Process & Full Details:
Officer Entry
Sailor Entry
Civilian Entry
Civilian Entry Jobs Full Details:
Indian Navy Civilian Entry three Trades are there Chargeman (Mechanic) and Chargeman (Ammunition & Explosive) classified as Group 'B', 'Non-Industrial', and the post of Tradesman Mate classified as Group 'C', 'Industrial' at various Commands total Selection process given below table.
| S.no | Trade Name | Selection Process |
| --- | --- | --- |
| 01 | Chargeman (Mechanic) |     Click Here |
| 02 | Chargeman (Ammunition & Explosive) |     Click Here |
| 03 | Navy civilian Tradesman Mate |     Click Here |
Sailor Entry Job Full Details:
Indian Navy Online applications are invited from unmarried male candidates  for enrollment as sailors forAA/SSR and MR/NMR in every year two times June/July and Nov/Dec months must release the notification in All India wise for recruit the vacancy Who wants try to this job must know the information about the Indian Navy Recruitment for AA/SSR and MR/NMR vacancy such as eligibility criteria, qualification and selection process total given below table.
Officer Entry Job Full Details:
Union Public Service Commission
(i) Combined Defence Services Examination (CDSE)
(ii) National Defence Academy (Navy)
(iii) National Defence Academy (Naval Academy)
(iv) NCC
Direct Entry: Permanent Commission For Undergraduate Level Entry
(i) 10+2 ( B.Tech )
Direct Entry: Permanent Commission For Gaduate Level Entry
(i) Sports
(ii) Musician
(iii) Law
Indian Navy Entrance Test (INET):
            (i)       Pilot (MR)  – for men and women
           (ii)      Pilot (NMR) – for men only
           (iii)     Observer- for men and women
           (iv)     Air Traffic Contro (ATC) – for men and women
           (v)      General Service –  Executive (GS/X)/
           (vi)     Hydro– for men only
           (vii)    General Service (Technical – Electrical & Engineering)
           (viii)    Naval Architect- for men and women
           (ix)     Information Technology– for men only
           (x)      Logistics- for men and women
           (xi)     Education- for men and women
           (xii)    Naval Armament Inspectorate Cadre (NAIC) – for men and women.
 Selection Procedure The selection procedure is as follows
(a) INET. INET (Officer) is a computer based written examination. There will be four sections and candidate is required to pass in all four sections separately with minimum 40% marks.
(i) Examination Centre. All eligible candidates, whose applications are received by due date, will be called for Indian Navy Entrance Test (INET) to be conducted at one of the INET centres as per their choice, subject to availability of slots at that centre. Call up letters cum Admit Card for online examination indicating date, time and place, would be required to be downloaded from the official website www.joinindiannavy.gov.in. Only Electronic mode of communication will be used while contacting the candidates at all stages of selection. Once the centre is opted by a candidate, it cannot be changed in any circumstances.
(ii) INET Syllabus. INET exam will be of two hours duration. It will contain 100 Multiple Choice Questions comprising Questions on English, Reasoning & Numerical Ability, General Knowledge, General Science & Mathematical Aptitude. Each section will be of 100 marks with negative marking of one mark for incorrect answer.
(b) Shortlisting for SSB. IHQ of MoD (N) reserves the right to shortlist candidates strictly on the basis of INET rank cum preference & choice. However candidates are required to qualify in all sections of INET Exam to be considered for shortlisting to appear in SSB interview. No communication will be entertained on this account. SSB interviews for short-listed candidates will be tentatively scheduled at Bangalore for Pilot & Observer candidates and at Bangalore/ Bhopal/ Visakhapatnam/ Kolkata for other branches/ entries. Shortlisted candidates will be informed about their selection for SSB interview on their e-mail or through SMS (provided by candidates in their application form). Candidates are advised not to change their e-mail/ mobile No till selection process is over.
(c) Merit List & Appointment Letter
(i) Merit list will be based on combined marks of INET (50% weightage) & SSB (50% weightage).
(ii) Candidates recommended by the SSB and declared medically fit will be appointed for training as per all India merit of each branch / cadre based on availability of number of vacancies in various branches/ cadres.
(d) Examination Fees Examination fee will be as per the extant govt regulations. The stipulated fee is to be paid through online mode. Admit card will be issued for the examination only to those candidates who have successfully paid the examination fee and who are entitled to waiver of examination fee.
Indian Navy official Website www.joinindiannavy.gov.in